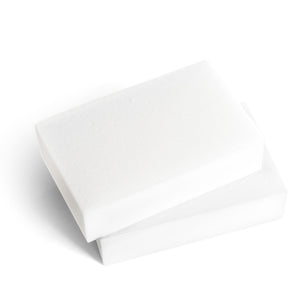 What is it?
A high performance tool to help you remove chalk from blackboards and dry erasable ink from whiteboards. Go on, you'll want to keep it clean!
The Magic Eraser can tackle even the most stubborn marks and ink shadows – it simply erases them! It is ideal for thoroughly cleaning almost all types of whiteboards. Please test in an inconspicuous area before use!
The abrasive foam works like very gentle sandpaper. Despite its porous nature and flexibility, the Basotect foam is as firm as glass. When slightly moist, it easily slides over the surface and wipes away the dirt, cleaning without a detergent.
Tips:
For longer lasting use, just moisten slightly and apply very little pressure to the eraser, don't immerse it in water or wring it out. Then, wipe the board surface dry with the Neuland Microfiber Cloth.
Packs of two

Size: 11 x 7 x 3 cm

Guaranteed original Basotect material - a registered BASF SE (Eco-Tex Standard 100) trademark

Colour: White