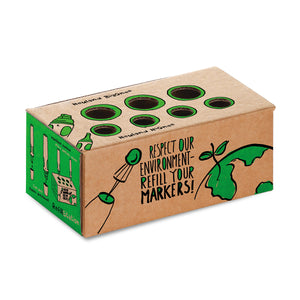 What is it?
A refill tool comprising natural brown corrugated cardboard with a two-colour print. This nifty tool is delivered flat and assembles within seconds. On your marks, get set, GO!
The RefillBox creates your very own refill station. It is the ideal spot to let your markers hang with the caps removed to allow for airflow and maximum absorption during refilling.
The RefillBox holds up to 4 Neuland No.One and 3 Neuland BigOne markers and stores ink bottles in the base.
Size: W 19.6 x D 10.7 x H 8.4 cm

Guidelines for refilling markers is included