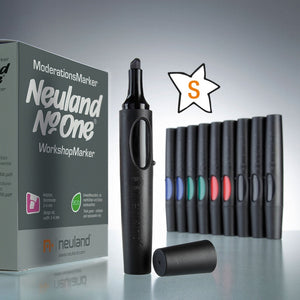 What is it?
A set of wedge nib markers that deliver bold line widths of 2-6MM.
This four-colour marker set will start your journey as a visual game changer. The brilliant refillable Neuland No.One® is a must have item so that you can create eye-catching lettering, add detail and create dramatic visual graphics.
Use on paper.
Eco-friendly and refillable up to 22 times with Neuland Ink RefillOne 45ml bottle.
Non-bleed.
Odourless water-based ink.
VOC content: 0%.
Ergonomic case design.
Case material: Polypropylene.
Just add your stroke of genius!